Ideas for Entertaining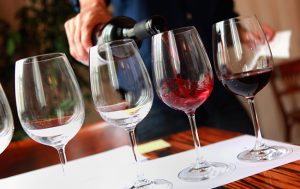 Planning a get-together for family or friends?  There are many great ways to entertain from hosting a formal dinner party to a more casual cocktail and appetizer evening.  A great way to change your evening entertaining is to host a spirit party or wine tasting party.  Family and friends gathered around your table are set to enjoy many unique mixed drinks or specially chosen wines.
Celebrate the season with 'Hello Summer' or 'Escape from Winter' themed drinks or toast special occasions with 'Be my Valentine' or 'Luck of the Irish' parties.  Specialty drinks can be infused with your choice of rum, vodka, whiskey or other liquor.  Spirit drinks can be served in unique and inexpensive glassware.  Highball, martini, and margarita glasses are the norm but consider serving your drinks in glass vases or jars.  Don't forget about your spirit drink garnishes to make your drinks more appealing.  Garnishes are usually edible and include one of many choices such as maraschino cherries, lemon or orange twists or pineapple spears for sweet mixed drinks and choices such as olives, celery, cherry tomatoes for savory mixed drinks.
Wine tasting parties are another great way to entertain your guests.  Wine parties can be easily pared with interesting food ideas such as wine and cheese, wine and chocolate or a perhaps even wine and a hearty pasta party. Perhaps a sommelier can attend and offer a blind taste-test featuring your favorite wines.
Consider serving a wine from each of the categories:  sparkling, white, red and full-bodied choices allow your guests to sip and swirl new tastes.  Have you ever heard of a P.I.G.S. wine tasting party?  Wines from Portugal, Italy, Greece and Spain are featured and there are many bargain wines from these 4 regions.  Feature one of these regions over four consecutive Friday nights in a month and you'll have a "Wine Tasting Month".
Finally your guests will most likely bring an appetite for food as well as drinks to your party.  Hot or cold appetizers or tasting plates can be coordinated to complement the drinks you are serving.  Most guests will appreciate a choice of small bites to satisfy their hunger.  Have numerous hot appetizers ready to heat and serve as needed.    If your party theme is wine and cheese consider selecting a soft cheese such as Brie or Goat Cheese; a semi-firm cheese such as Cheddar and Fontina; and a pungent Blue cheese and aged Gouda to round out your selections.  Remember to serve a variety of crackers and fruit with your cheese selections.
Whatever your occasion, drink parties offer a versatile choice to hosts and hostesses wanting to take a break from conventional dinner and cocktail parties. Schedule your drink party today and invite Calgary Private Chef Darrell.